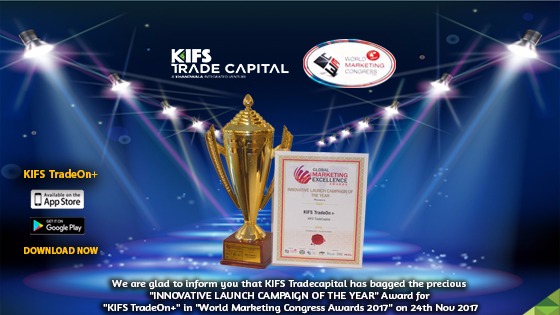 KIFS TradeCapital's, constant efforts to offer endless support to its customers with the help of digital initiatives is being recognized, with the company winning India's "Innovative launch campaign of the year Award" at Global Marketing Excellence Awards organized by World Marketing Congress, at a glittering ceremony held at Taj Lands End.
"KIFS TradeOn+ a Mobile Trading App" is an ultimate online trading platform that makes online investments – Simple, Speedy & Secure. Its innovative features – faster stock-tracking with multiple watch lists, auto news updates & real time fund transfer-ability through a secure encrypted channel, empower every user with the freedom to trade on the go, anywhere, anytime with 100 % convenience. Guests & registered users can both use this app truly to keep the market at their finger-tips.
Features of the TradeOn+ app
Robust and user friendly application with real time quotes
Available on IOS and Android
Chat Bot integrated feature for any queries related to market and personal account
High Speed Trading Platform on mobile
Highly Secure for Mobile Trading
Real time Trade Confirmation
Multiple exchanges on a Single Screen
DII/FII/MF and Block Deals Real Time Data Available
Global Watch to be updated on World Markets
Latest News and Announcements
24*7 Fund Positions – Client, Margin Ledger, Holdings, FO Position
Features of the Campaign:
Promote Exclusive offers, products, and services to all existing as well as new clients in an automated way without much manual interaction offered through Mobile Trading App TradeOn+
KIFS Cross-Channel marketing Campaign is designed in simple and user-friendly manner thinking from investor's point of view on using and looking at various services available with a broker.
Visibility, Attention, and Ease of Use are the important factors considered while designing the Ad Campaign.
Imaginative icons are been used to enhance the user's know-how to perform the key actions with the help of visual language.
While receiving the Award, Mr. Ritesh Ashar, Chief Strategy Officer at KIFS Trade Securities said, "We are honored and thrilled to receive such prestigious awards for Global Marketing Excellence Awards. This shows that our mobile app has already become the most preferred trading application in the industry. In such a sensitive market, our customers are looking forward to quick services and therefore our mobile app is going to play a critical role in the trading business. We are very grateful and proud of our strong team of technology experts including Data Scientists, Programmers, and Developers, who are working endlessly on the "Digital" platform. On the other hand, words aren't enough to express our gratitude to our customers who trusted us for our services and efforts. We are very happy to proclaim that our Innovative campaign has received an overwhelming response from our customers."