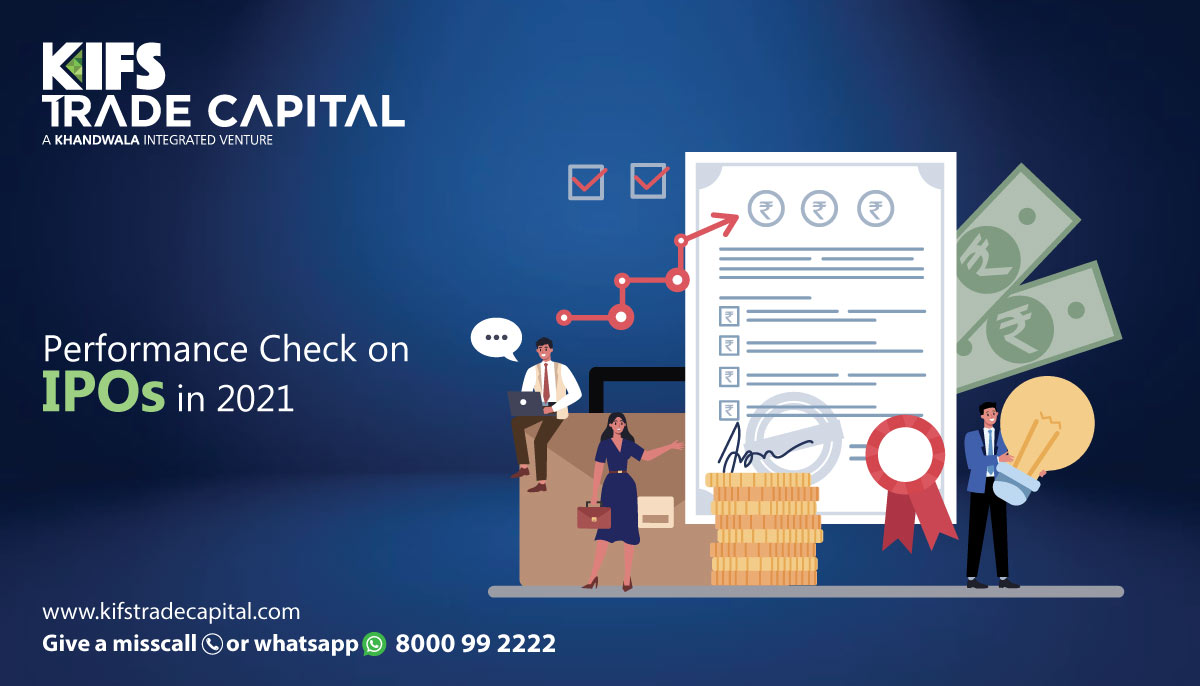 It's time to check the performance of IPOs. They are awesome long term investment avenues, super tax savers, and can earn extraordinary returns on idle balance in your savings account. With this performance tracker KIFS Trade Capital offers free Dmat and Trading account for your convenience. This offer is valid till 31 March 2021. Click here to apply for free Dmat and Trading Account.
Name
Date of Listing
Issue Price
Listing Price
Percentage Returns from issue price
Easy Trip Planners Ltd
19-Mar-21
187
206
11.47
MTAR Technologies Ltd
15-Mar-21
575
1063.9
68.6
Pavna Industries Ltd
9-Mar-21
165
165.6
0.15
Heranba Industries Ltd
5-Mar-21
627
900
1.98
Railtel Corporation of India Ltd
26-Feb-21
94
104.6
38.94
Nureca Ltd
25-Feb-21
400
634.95
54.1
Stove Kraft Ltd
5-Feb-21
385
467
14.36
Indigo Paints Ltd
2-Feb-21
1490
2607.5
53.39
The above table is self-explanatory. Following writeup will help laymen to understand various aspects of investment strategy using IPO.
Benefits of IPOS
Easy Access to High-Quality Stocks:By investing in IPOs, even small investors get access to superior quality unlisted stocks for comparatively low valuations. This capacity to get low valuation stocks is probable merely by an IPO. Once the stocks' listing occurs in the secondary markets, the probability of the company's valuations soaring is relatively on a higher side, which puts off small investors from investing in leading companies. In recent years, we have seen IPOs of many superior quality unlisted shares.
Disinvestments of PSU Organizations: The disinvestments offer small investors opportunities to invest in higher quality shares of PSUs. For instance, the prime outperformers of the preceding 15 years, Maruti was sold right to the public by the Government using the IPO.
High Level of Transparency:An IPO is exceedingly transparent. The Red Herring Prospectus contains all of the applicable information and details about the company filing for the IPO. From monetary information to its shares' precise pricing details, all the stuff is laid out to the likely investors. Investors can get information on the company merely through company prospectus. There is no other basis for communication. Hence, the institutional investors, insiders, and analysts do not have preference or edge over small investors regarding information accessibility.
Application Supported by Blocked Amount: There is an exclusive benefit of investing in IPO over the custom stock dealings. Application Supported by Blocked Amount (ASBA) facilitates that the amount is accredited merely when the shares are directly allotted to the investors.
Discounts for Retail Investors:Many IPOs provide discounts of 10% on the issue price of their shares right to retail investors. This scenario enables small investors to single out the stocks at a price that's even lesser than the overall issue price, offering them a significant benefit over big institutional investors as well as high net worth individuals. This is something that's not accessible in the secondary markets.
Easy Creation of Wealth:By investing in IPOs, one gets to chip in the wealth creation progression. For instance, the issue price of the DMart IPO in the year 2017 was around Rs. 300 per share. Now, the shares of DMart are trading at a much higher price. So, if someone had picked up its shares by its IPO, there would be an incomparable wealth generation for him.
Key Takeaways
For these significant benefits, an IPO is an exceptional investment opportunity for investors looking to turn a quick profit and people fascinated in creating long-term returns.